20 Top Things to Do in Kansas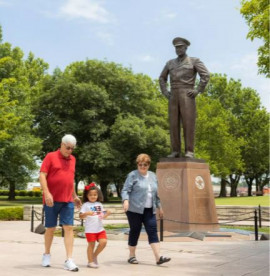 Like its endless-sky sunsets, the Sunflower State expands horizons with urban exploration in Wichita; treks through OZ and otherworldly rock formations; and cultural experiences in Topeka, Salina, Dodge City and beyond. Top off your adventures with saucy barbecue in Kansas City, Swedish cuisine in Lindsborg or nostalgic eats along Route 66. 
Salute Eisenhower in Abilene
Abilene's star attraction, the Dwight D. Eisenhower Presidential Library, Museum and Boyhood Home received a major upgrade in 2019 to coincide with the 75th anniversary of D-Day. In exhibits using multimedia, Dwight and Mamie Eisenhower tell their life stories in their own words, sharing how the hometown boy became a war hero, Army five-star general and president of the United States. A young Ike likely heard tales of Abilene's cattle town days, re-created in Old Abilene Town, where make-believe gunfights erupt in the street. Next to the historic depot, the Abilene and Smoky Valley Railroad embarks on trips through the Smoky Hill River Valley.
---