The 7 Best Steam Train Trips in the U.S.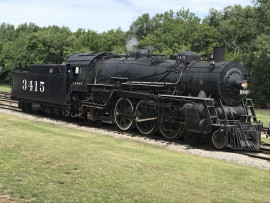 Black smoke still billows from steam locomotives in southeastern Pennsylvania, just as it has since 1832. The Strasburg Rail Road, said to be "America's oldest continuously operated railroad," turned 190 years old June 9.
Abilene & Smoky Valley
When railroads started retiring steam locomotives in the mid-20th century, some wound up in city parks. But decades later, the one in Abilene, Kansas, got back on track. The Abilene & Smoky Valley Railroad operates former Atchison, Topeka & Santa Fe No. 3415, a 4-6-2 (those numbers representing the wheel arrangement) Pacific-type locomotive that pulls passenger excursions on select weekends throughout the year.
The locomotive was restored to service after sitting in a municipal park for 40 years. It's worked for the railroad for several years and is about to undergo significant rebuilding, so 2022 will be the last chance to roll down the rails behind this engine – at least for a while. Repair work on the locomotive will coincide with continued track rehabilitation work, ensuring smooth rides for years to come.
No. 3415 operated over Memorial Day weekend and drew a large crowd, says Ross Boelling, the railroad's president and general manager. "There's only very few Pacifics left," Boelling says. "It's the only steam locomotive within a 500-mile radius of Abilene that's operating. … She always seems to draw a lot of attention."
---