Iron Horse Trail Groundbreaking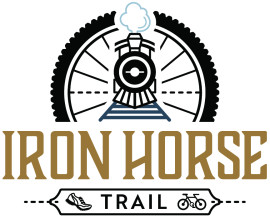 After several years of planning, the Iron Horse Trail is breaking ground and moving forward. Community members, volunteers and donors will gather on Tuesday, August 2 at 1 p.m. south of the Dickinson County Heritage Center at SE 5th Street and S Campbell Street to celebrate the start of the project.
A project of the Abilene & Smoky Valley Railroad, Phase 1 of the Iron Horse Trail, The Oard Trail, will be constructed from Campbell Street east to Jeep Road adjacent to the ASVRR track and on its property. The Oard Trail honors Mary Jane Oard and her late husband, Orville Oard, for their years of service to the ASVRR.
"We are excited to partner with community organizations and leaders on this project," said Ross Boelling, Abilene & Smoky Valley Railroad Board President. "We see this as a mutually beneficial project to increase support for the train and also provide a community service by allowing a safe place to walk or bike."
Phase l of the Iron Horse Trail - The Oard Trail- is funded through support from a $35,568 grant from the Sunflower Foundation, and a generous grant from the Community Foundation of Dickinson County. In addition, the Quality of Life Coalition will provide $50,000 for the project through the Blue Cross and Blue Shield of Kansas®, Pathways to a Healthy Kansas grant program.  An additional grant for $49,821.60 was also submitted to the Kansas Department of Wildlife and Parks last fall and is still awaiting notification. That grant would fund Phase 3 of the trail, which is from Enterprise west from Bridge Street and across the Smoky Hill River.
Background
In 2019, the Community Foundation of Dickinson County was selected to participate in the Kansas Community Philanthropy Innovators Network (CPIN). Through that process, members of the committee discussed economic development philanthropy ideas. The group identified downtown revitalization as a priority, but with the start of the COVID-19 pandemic, knew they needed to pivot to approach the challenge in a non-traditional way.
"We identified the trail for its potential to attract a different demographic of visitor to our community," said Elizabeth Weese, Community Foundation of Dickinson County director. "We hope that the trail will spur additional economic development initiatives from breweries to bike shops in downtown Abilene."
Since the pandemic, travelers continue to seek quality and unique outdoor recreation opportunities.
"Abilene is known for its five-star tourism attractions, and the addition of the Iron Horse Trail gives us one more attraction to promote and one more reason to visit," said Julie Roller Weeks, Abilene Convention & Visitors Bureau director.
In addition to spurring visitation and economic development, the trail will serve as a safe place for residents to walk or bike.
"The Iron Horse Trail supports our mission of promoting social, physical, and mental well-being for the residents of Dickinson County, and the Blue Cross and Blue Shield of Kansas mission to invest in communities to create sustainable, healthy places where Kansas live, work and play in ways to improve the quality of their lives," said Vicki Gieber, Quality of Life Coalition director.
Once completed, the Dickinson County Trails Conservancy, led by Scott Reynolds will help maintain the trail.
"I'm both a trail supporter and user," Reynolds said. "I could not be more excited to see this project moving forward and can't wait to ride the trail!"
For more information about the Iron Horse Trail, visit www.facebook.com/ironhorsetrailks.
---