Where's the beef? Coming soon to this famed Kansas fried chicken spot? A sixth-generation cattle family's prize-winning steaks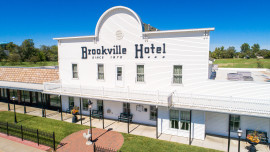 Creating a legacy doesn't happen overnight, Deanna Munson said. And rarely is it a solo venture.
The former Brookville Hotel, a striking white vestige of Kansas' past, is more than its dinner platters heaped with fried chicken, creamed corn and a variety of pickles. Within the walls of the restaurant — newly reopened as Legacy Kansas — is the story of two Sunflower State families: entrepreneurs whose 150-year journeys cross trails in a small town two and a half hours west of Kansas City on I-70.
They've won regional and international accolades. They've pivoted. They've survived fickle consumer trends, a devastating fire, and uncertain staffing.
And the Munson family is just getting started, said Munson, teasing a meaty menu that soon will bring diners even more flavors from the award-winning herd.
---