Former White House Communications Agency Members to Visit Abilene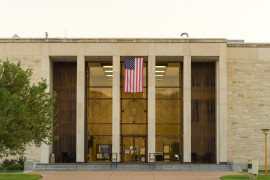 The number of individuals who have the privilege of working with the President of the United States on a daily basis is rather limited. Even fewer are the number of people who can say their job was to provide direct communications support for the Commander-in-Chief.
The stories they must have.
Thirteen former members of the White House Communications Agency (WHCA) plan to share their memories when they gather for a reunion next month in Abilene. The public is invited to hear them speak from 7:00 to 9:00 p.m. Wednesday, September 7, at the Abilene Public Library.
These public servants – all military veterans – worked directly with presidents from John F. Kennedy to Bill Clinton and, with the exception of Lyndon B. Johnson, everyone in between. The accounts they plan to share are as diverse as the presidents themselves.
Harland Priddle, for example, will discuss planning President Richard Nixon's historic trip to China and the Soviet Union as well as the Watergate scandal that led to the president's resignation. Priddle was WHCA deputy commander while serving from 1970-74. He would later become the Kansas Secretary of Agriculture as well as the first Kansas Secretary of Commerce.
Mike Ebbing, who also served during Nixon's tenure, will present his personal conversations with the president while acting as a switchboard operator. He also will share audio recordings from 50 years ago of conversations from the secret White House tapes.
WHCA is a joint military organization that was established in 1942 to provide direct communications support to the president. The agency has served in this role for the past 80 years.  
"It is fitting that this talented group who served seven different presidents would select the hometown of yet another one, President Dwight D. Eisenhower, for their reunion," said Lieutenant Governor and Secretary of Commerce David Toland. "Their duty to country – not only as members of the White House Communications Agency but as military veterans – reflects a commitment to service much greater than themselves. On behalf of Governor Laura Kelly and the State of Kansas, I offer our sincere gratitude."
While in Abilene, the group is planning a visit to the Eisenhower Presidential Library and Museum and will tour the nationally known Seelye Mansion. President Eisenhower's granddaughter, Mary Jean Eisenhower, will have lunch with the group there. Following lunch, she will participate in a wreath-laying ceremony at the president's gravesite. 
"We are so glad they are coming to our town," said Abilene Mayor Dee Marshall. "We love sharing our little city."
That evening, the lieutenant governor will give opening remarks at the public meeting, which is co-sponsored by the Abilene Convention and Visitors Bureau and the State of Kansas Tourism Office.
For more information, contact Harland Priddle at (620) 664-3304 or hpriddle@aol.com, or Mike Ebbing at (949) 395-7370 or mike.ebbing@hotmail.com.
Overview of White House Communications Agency Reunion Attendees
Mike Ebbing, Lake Forest, California. Time in WHCA: 1970-1972, President Nixon. Chief Switchboard Operator, Camp David and multiple presidential trips.
Harland Priddle, McAlester, Oklahoma. 1970-1974, President Nixon. Headquarters, Deputy Commander.
Larry Hawthorne, Woodward, Oklahoma. 1972-1980, Presidents Nixon, Ford and Carter. Electronics.
Tom Glotzbach, Topeka, Kansas. 1963, President Kennedy. Camp David Communications Center.
Jim Ferguson, Pittsburg, Texas. 1972-1974, President Nixon. Transportation Division and Administrative Support.
Dave Ludwig, West Branson, Missouri. 1974-1978, President Nixon, Ford and Carter. Satellite Technician at Key Biscayne and Andrews Air Force Base Communications Contingency Team.
Bob Ethen, Caledonia, Michigan. 1973-1976, Presidents Nixon and Ford. Transportation Division.
Wayne Vorland, Ashby, Minnesota. 1971-1974, President Nixon Transportation Division.
Gary Paul, Powell, Ohio. 1972-1975, Presidents Nixon and Ford. White House switchboard operator.
Ken Bench, Vine Grove, Kentucky. 1973-1979, Presidents Nixon, Ford and Carter. White House Communications Center and Camp David.
Donald Murray Robert, Missouri. 1987-1997, Presidents Regan, Bush and Clinton. Graphics, Travel and Operations.
Roger Newton, Tulsa, Oklahoma. 1973-1978, Presidents Nixon, Ford and Carter. Television section, audio visual branch, Camp David. 
---