Old Abilene Town Recalls Wild West Days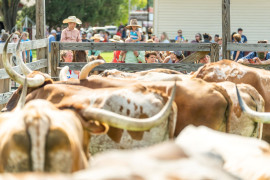 Abilene, Kansas, was the first of the cow towns in the Wild West. Today, Old Abilene Town recreates those days with buildings that simulate the 1870s Abilene and museums that tell the history of the Chisholm trail, cattle drives, and Abilene life in the days of Wild Bill Hickok.
Old Abilene Town
Buildings along Old Abilene Town's boardwalk include the Alamo Saloon and a general store, among other businesses that existed at that time.
Also on the grounds are one of the first cabins built in Dickinson County, the second church (which doubled as the first schoolhouse), and the carriage house that belonged to T. C. Henry. T. C. Henry is the person who brought the wheat crop to Kansas.
---