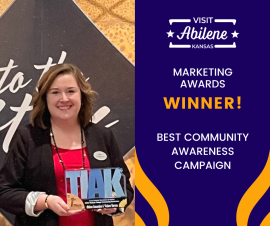 The Abilene Convention & Visitors Bureau received a Travel Industry Association of Kansas (TIAK) marketing award at the Kansas Tourism Conference in Wichita. Abilene received the Destination (Community) Awareness Campaign Award for the Medium Community Marketing Budget category. Other communities in the Medium Community Marketing Budget Category include Emporia, Manhattan and Meriam.
Marketing awards judges commented, "This campaign is such a great example of excellent strategy. When ad/marketing budgets are cut, we have to be creative! The earned media is outstanding and wouldn't have been possible without your team working hard on social media. Great job creating awareness and engagement within your community, which also meant advertising to outside visitors through the awards!"
Communities across Kansas submitted more than 200 nominations for the 2022 Marketing Awards.
"This year, Abilene received a lot of national recognition, but this award from the Kansas tourism industry is extra special because it's the culmination of all of our efforts to market Abilene," said Julie Roller Weeks, Abilene CVB director.
In 2022, Abilene was named Destination of the Year by the Midwest Travel Network; Best Historic Small Town by USA TODAY; Favorite U.S. Small Town by Travel Awaits; Friendliest Small Town by Travel Awaits; Best Promotion of a Historic Place by True West Magazine; and now Best Destination (Community) Awareness Campaign by TIAK.
Roller Weeks also serves as the 2022 TIAK President, whose purpose is to speak with one voice for the travel industry in the State of Kansas, promoting and supporting all components of the travel industry and travel development field.
To learn more about Abilene, please visit www.AbileneKansas.org. 
---