10 Small Towns with Big Midwestern Charm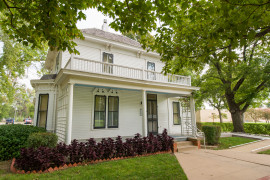 Big cities have their appeal with a plethora of fine dining restaurants and high-dollar museums, but there's something about a small town that charms like nothing else. From picture-perfect main streets to smiley, welcoming folks working in modest boutiques to coffee shops where you can snuggle into a lived-in couch and people watch, small towns let you take a beat and soak in the world. We've rounded up 10 small towns in the midwest absolutely bubbling with big charm.
Abilene
Though it's located squarely in the middle of the country, Abilene's roots are really in the "Old West." After all, the Western part of the United States we know today is relatively new. (There's also an entire debate about whether Kansas is part of the Midwest or a Plain state, but if the locals consider themselves the former, we'll agree.)
In any case, a visit to Abilene is a must for anyone eager to soak up some of that Old West charm, as it's a place where "many of the legends and traditions of the cowboy days had their origin," states the town's official website. To add to the American pedigree, President Dwight D. Eisenhower is proudly from Abilene, and rumor has it the town hosts one of the best Fourth of July celebrations in the country.
---