Abilene unveils world's largest belt buckle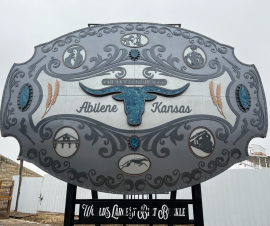 Abilene, Kansas is now home to the World's Largest Belt Buckle.
The buckle stands At 19 feet 10 ½ inches wide and 13 feet 11 ¼ inches tall, not including the frame. It was unveiled Wednesday at Eisenhower Park and serves as a billboard celebrating Abilene.
Designed by local artist, Jason Lahr, Fluter's Creek Metal Works, the buckle features Dwight D. Eisenhower, Wild Bill Hickok, Abilene & Smoky Valley Railroad, Historic Seelye Mansion, C.W. Parker carousel horse, C.L. Brown telephone, a racing Greyhound and Chisholm Trail longhorn inlaid with blue quartz.
"Whether you enjoy Cowboy history, art, fun photo opportunities, or the world's largest things, make sure to add the World's Largest Belt Buckle to your Kansas I-70 road trip," said Abilene Convention and Visitors Bureau Director Julie Roller Weeks.
---