New World's Largest Belt Buckle unveiled in Kansas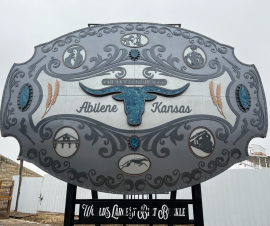 The town of Abilene has yet another claim to fame.
After months of waiting, the Abilene Convention & Visitors Bureau is showing off the newest World's Largest Belt Buckle. The belt buckle comes in at 19 feet, 10.5 inches wide and 13 feet, 11.25 inches tall, and is the largest on record in the U.S. These measurements do not include the frame.
---