World's Largest Belt Buckle Unveiled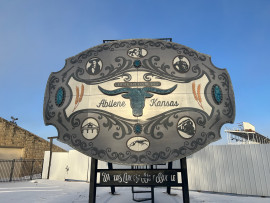 The world's largest belt buckle has been unveiled.
According to the Abilene Convention and Visitors Bureau, at 19 feet 10 ½ inches wide and 13 feet 11 ¼ inches tall (not including the frame), Abilene, Kansas is now home to the World's Largest Belt Buckle. Unveiled Wednesday at noon at Eisenhower Park, the project serves as a billboard celebrating Abilene.
---