Abilene unveils world's largest belt buckle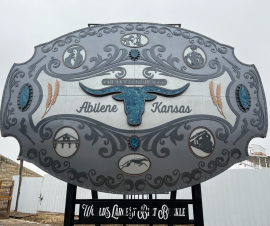 At 19 feet 10 1/2 inches wide and 13 feet 11 1/4 inches tall (not including the frame), Abilene, Kansas is now home to the World's Largest Belt Buckle. Unveiled Wednesday at noon at Eisenhower Park, the project serves as a billboard celebrating Abilene.
Designed by local artist, Jason Lahr, Fluter's Creek Metal Works, the buckle features Dwight D. Eisenhower, Wild Bill Hickok, Abilene & Smoky Valley Railroad, Historic Seelye Mansion, C.W. Parker carousel horse, C.L. Brown telephone, a racing Greyhound and Chisholm Trail longhorn inlaid with blue quartz.
---