Abilene, Kansas - A True Western Cowtown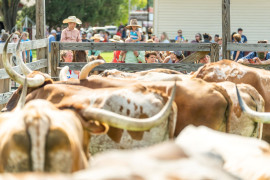 The once lawless cattle town is now one of the West's most historic Old West destinations.
The railhead town of Abilene, Kansas, had a wild range of characters vital to its prosperity on the frontier from the late 1860s into the 20th century. 
Abilene, 150 miles west of Kansas City, was a boomtown from 1867 until 1871, when cowboys drove more than a million Texas longhorn cattle on the Chisolm Trail to its stockyards. From there the cattle were shipped by rail to eastern markets. 
"Abilene was certainly one of the wild and wooliest towns in the West," said Julie Roller Weeks, Abilene Convention and Visitors Bureau director. 
Some of Abilene's key figures included:
 Illinois cattleman Joseph McCoy, Father of the Texas Cattle Trade, who built Abilene's stockyards.
T.C. Henry, the town's first mayor in 1869 and Wheat King, who convinced area farmers to grow winter wheat.
 Lawmen Tom "Bear River" Smith and Wild Bill Hickok, who were charged with keeping a lid on the rowdy cowboys and drovers on Texas Street. Smith was killed in 1870 by a homesteader north of Abilene, and Hickok left town, only to be fatally shot in a card game in Deadwood, Dakota Territory, in 1876.
 Years later, Abilene's Dr. A.B. Seelye made a fortune in patent medicines.
Charles Parker, the Carousel King, grabbed the brass ring making amusement park rides and equipment. 
---