World's Largest Belt Buckle Sponsorship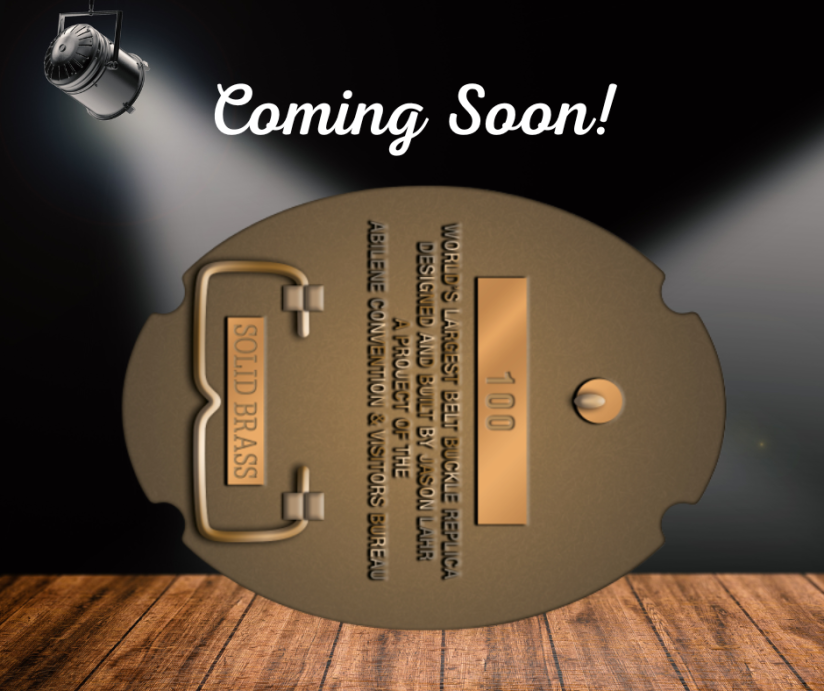 With a $200 donation, you will receive the following:
1 - Numbered, brass commemorative WLBB replica buckle suitable for wearing or displaying.
The buckles feature Abilene icons, including:
Wild Bill Hickok
C.W. Parker Carousel Horse
Vintage Telephone (representing C.L. Brown's United Telephone)
Dwight D. Eisenhower
Historic Seelye Mansion
Greyhound (representing Abilene as the Greyhound dog Capital of the World) 
Abilene & Smoky Valley Railroad Steam Engine
1867 Chisholm Trail Longhorn
AND -- your name will be listed on the back of the REAL World's Largest Belt Buckle for all to see!
This is the perfect Christmas gift for cowboys, history lovers, and community supporters!
Note: The current World's Largest Belt Buckle was created by Montana Silversmiths and stands at 10'6" by 14'6.4". It is on display at their showroom in Dallas.
Jason Lahr of Fluters Creek Metal Works is constructing Abilene's WLBB, and we plan to unveil it the week of December 19. Replica buckles will be available at the unveiling event for pickup.
We will mail buckles to those unable to attend to the shipping address provided.
This project is funded with support from a Kansas Tourism Attraction Development Grant.
Questions? Please call the Abilene Convention & Visitors Bureau at (785) 263-2231 for assistance.
** OUR FIRST ORDER OF 100 BUCKLES IS SOLD OUT.**
If you are interested in purchasing a buckle, please leave your contact information below, and we will contact you regarding a second order and pricing.
Thank you so much for your support and interest!!