100-Mile Road Trip: Abilene to Alma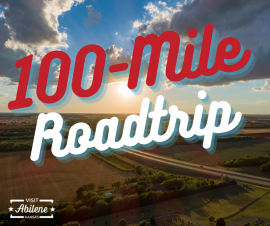 Tossed n Sauced Pizza in Abilene, Kansas, is known for its 100-mile pie, but do you know what else we love? A 100-mile road trip through rural Kansas and the Flint Hills!
So hop off Kansas I-70, enjoy a stay in one of Abilene's lodging establishments and get ready to follow this great road trip as we highlight the best places to explore the area's history and connections. And don't worry, we made sure to include some great stops for special treats along the way! 
From Abilene to Alma, 100 miles of fun!
1. Abilene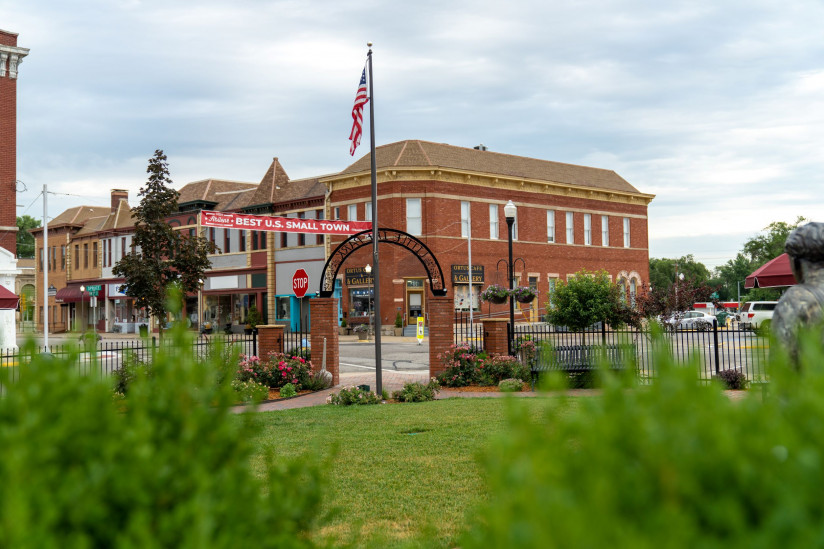 Conveniently located along Kansas I-70 (Eisenhower's Interstate System) at Exits 275 and 273, Abilene is the perfect place to start your 100-mile road trip.
Named Best Historic Small Town by USA Today readers and Best U.S. Small Town by Travel Awaits in 2021, you will definitely want to take time to explore these five-themed itineraries in our 5-star community!
Traveling south from Abilene along Kansas Highway 15 to Hope, take note of the topography. This is the same route thousands of cowboys and hundreds of thousands of longhorn cattle traveled along the Chisholm Trail.
2. Hope - 25 miles
There will always be Hope in Kansas. Did you know Hope also has a connection to the Eisenhower Family? David Jacob Eisenhower, the father of U.S. President Dwight D. Eisenhower, lived on a ranch near Hope as a young man and briefly operated a general store in the community in 1885. When the store failed, he relocated his wife and two young sons to Denison, Texas, where he worked for the railroad. Dwight David "Ike" Eisenhower was born in Denison in 1890, and the family soon returned to their family in Kansas, where David found work at the Belle Springs Creamery in Abilene.
"The proudest thing I can claim is that I am from Hope?" It just doesn't have the same ring to it. Without their hardships in Hope and short time in Texas, Ike may have never called Abilene home. 
Fun facts: Arthur B. Eisenhower, the first child of Ida and David Eisenhower, was born in Hope. Edgar Eisenhower, aka "Big Ike," was also born in Hope. 
The Hope Community Museum is open on weekends during the summer and also by appointment year-round.
3. Herington - 10 miles
Like Abilene, Herington is a railroad community. It is also is home to one of a few dozen remaining old-fashioned soda fountains in Kansas. Visit Kay's Pharmacy in downtown Herington to enjoy a special treat! 
Also, notice the Herington City Pool's architecture. Built in 1937 as a WPA project, it resembles both the pool and stadium in Abilene's Eisenhower Park.
Fun Fact: Located one mile south of Herington, along US-77, visitors will find a Kansas Historical Marker for Dwight David Eisenhower. The marker reads:
The 34th president of the United States, Dwight David Eisenhower, grew up in Dickinson County. His parents, David and Ida Eisenhower, moved to Hope, about 10 miles west of here, in 1885. There, the Eisenhowers opened a general merchandise store and the future president's two older brothers were born.
When I was a small boy in Kansas, a friend of mine and I went fishing and as we sat there in the warmth of the summer afternoon on a riverbank, we talked about what we wanted to do when we grew up. I told him that I wanted to be a real major league baseball player . . .and he said that he'd like to be president of the United States. Neither of us got our wish."—Dwight D. Eisenhower
After moving briefly to Denton, Texas, where Eisenhower was born on October 14, 1890, the family returned to Dickinson County, this time to Abilene, about 25 miles northwest of here. Eisenhower left for West Point in 1911, served as Supreme Commander of Allied Forces during World War II, and was elected president in 1952, but he always cherished his Kansas heritage—"the proudest thing I can claim is that I am from Abilene."
4. Council Grove - 35 miles
Like Abilene, Council Grove is full of history, home to Daughters of the American Revolution markers, and it sits on a famous trail - The Santa Fe Trail.  While in town, make sure to visit the Madonna of the Trail Statue.
"Madonna of the Trail is a series of 12 monuments dedicated to the spirit of pioneer women in the United States. The monuments were commissioned by the National Society of Daughters of the American Revolution (NSDAR). They were installed in each of the 12 states along the National Old Trails Road (Route 40), which extended from Bethesda, Maryland, to Upland, California. 
Then, stop and enjoy a happy hour beverage at Council Grove's Riverbank Brewing. Opening at the end of 2021, this brewery offers a special treat for craft beer lovers on your journey.
Traveling north from Council Grove along Kansas Highway 177, make sure to admire the beautiful Flint Hills and cattle grazing. At the intersection of Kansas Highway 177 and Kansas Highway 4, you will see a very impressive welcome sign for Alta Vista. The sign is nearly as large as the town! 
6. Volland - 25 miles
Like so many rural towns, Volland began as a railroad community. Like Abilene, Herington, and Council Grove, it is situated along the former Rock Island Railroad line.
Make sure to check out The Volland Store to see traveling exhibits from renowned artists. 
7. Alma - 8 miles
The City of Native Stone, Alma, is a small community nestled in the heart of the Flint Hills. Like Abilene, Alma is a county seat. 
While in Alma, make sure to visit the Alma Creamery to try their "squeaky cheese"! If you love Abilene's antique stores (including Abilene Downtown Antiques/Mud Creek Antiques Malls), you'll also enjoy the Antique Emporium/Mill Creek Mercantile in downtown Alma. And, while you can start your road trip at Amanda's Bakery in Abilene, you can end it at the Alma Bakery in Alma.
Now, drive 12 miles north from Alma along Kansas Highway 99 to Kansas I-70, Exit 328 and drive west back to Abilene. We hope you enjoy a good night's rest, for tomorrow is another 100-mile road trip. Stay tuned for details! 
Kansas Guidebook 2 for Explorers
Want to learn more about these great communities? Pick up a copy of the Kansas Guidebook 2 for Explorers.
---