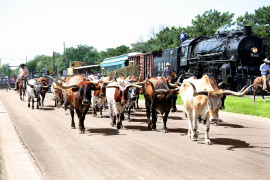 Named #1 True Western Town of the Year, visit Abilene, Kansas and experience its wild and wooly side!
History
The first cattle drive from Texas to Abilene took place in 1867. With that first cattle drive, the history of Abilene was changed. In 1867 when Joseph McCoy came to Kansas looking for a suitable place to construct a stockyards.  Abilene was not his first choice, but is where he ended up at. McCoy's first impression was:
"…Abilene was a small dead place consisting of about one dozen log huts, low, small rude affairs, four-fifths of which were covered with dirt for roofing; indeed, but one shingle roof could be seen in the whole city.  The business of the burg was conducted in two small rooms, mere log huts, and of course the inevitable saloon also in a log hut was to be found."
Once the cattle began to come to Abilene, things began to change. Within five years Abilene was a growing community of about 3,000 residents and eleven saloons. Over 1.5 million head of cattle was driven up the cattle trail which became known as the Chisholm Trail. Abilene became known as the "wildest and woolliest" town in the west. After being on the trail for three to five months the cowboys would get paid and were ready to celebrate. Saloons, dance halls and houses of ill-fame were common stopping spots for the cowboys. Drinking and gambling were the two favorite past-times, however, many try to find the companionship of a female either in the dance halls or in 'devil's addition'.
In 1870, Abilene had had enough. The city went out and hired two professional police officers from Saint Louis, Missouri. They arrived on the morning train and resigned by the end of the day taking the midnight train going back east. They had quit, saying they could not handle the job. The city fathers then hired Tom "Bear River" Smith as their first city marshal. Smith was unknown to the cowboys, but soon found out he was not to be taken lightly.
Tom handled the cowboys not by pulling his guns, but would first talk to them politely. If that didn't work he used his fists. Big Hank and Wyoming Frank were the first two cowboys to learn that Marshal Smith meant business. Both had defied him only to find themselves picking their bodies off the floor, being knocked down by Smith's two big fists.
Most cowboys and the townspeople respected Smith and gave him very little trouble. However, Tom Smith was killed in the line of duty. On November 2, 1870, Smith and his deputy rode out northeast of Abilene to bring in two settlers who were accused of killing a third farmer whose cattle destroyed their crops. As Smith rode up to their dugout he was shot falling from his horse. The deputy thinking Smith was killed turned around and rode back to Abilene to get help.
By the time he came back with help, they found Smith's body lying on the ground with his head nearly severed by an ax. The two men were found and both were sent to prison.
After the death of Smith, the city hired a man by the name of James Butler Hickok. People better know him as "Wild Bill" Hickok. Hickok controlled the town from April to December of 1871.  His reign as marshal ended with the shooting of Phil Coe in October.  Hickok and Coe had a running dispute throughout the cattle season.  Coe owned and operated the Bull's Head Saloon. As the season was coming to an end, Coe and some other Texans were out and about the town going from saloon to saloon.  At some point, Coe pulled a pistol out and started shooting at a dog.  Wild Bill came to see what was happening and saw Coe with the pistol.
Wild Bill asked Coe to turn over the gun, but Coe fired at the marshal missing him.  Hickok drew his pistols and was true with his aim.  Coe fell to the ground mortally wounded.  As Hickok fired his pistols he saw another man running up from the side, he turned and fired without looking.  The second man was Mike Williams, a good friend of Wild Bill's. Williams fell to the ground, dead.
Wild Bill was devastated.  This was the end of Abilene as a cattle town.  In December Wild Bill Hickok was let go as the marshal and the cattle drives were banned from Abilene.
---