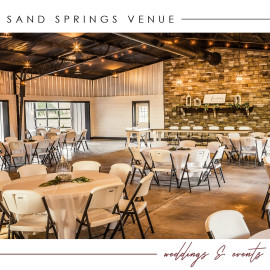 The Sand Springs area holds many memories for many people. For some, those memories may be stopping by the watermelon stands along Old 40 Highway, but here at the Sand Springs Venue, we hope to create new memories that will be remembered for years to come. Converting the farm I grew up on and has been in the family for 50 years was no small task, but we believe the work was well worth the reward. We are proud to open up our farm to serve Central Kansas in such a unique setting.
The idea to open a venue came in recent years when we realized a need for Abilene and surrounding communities to have a place to gather and celebrate. It is our top priority to provide a great location that suits everyone's taste where friends, families, and companies can gather.
We hope to serve each of our guests well by creating a great atmosphere and providing what they need to have a smooth, unforgettable experience.
If you are planning a wedding or event in Central Kansas, call us today to book the venue of your dreams.
---