For the Love of Art – North Central Kansas Road Trip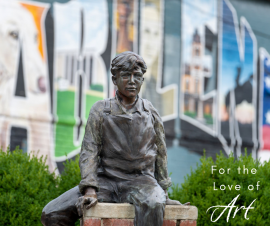 Abilene, Kansas, located along Eisenhower's Interstate 70 in North Central, Kansas is home to a great arts scene. From murals of all types and sizes to traditional and innovative statues and, of course, the five-star Great Plains Theatre, art lovers of all ages will love their visit to Abilene.
While in North Central Kansas, make sure to check out these other art destinations.
1. Clay Center
Following Abilene's lead, Clay Center is embracing the mural movement. Keep your eyes open, you never know where you'll spot a mural!
2. Concordia
See the Whole Wall Mural – the longest sculpted brick mural in the US. Make sure to check out the statues commemorating the Orphan Train.
3. Cawker City 
No Kansas road trip would be complete without a stop and the iconic World's Largest Ball of Sisal Twine!
4. Lucas
The Grassroots Art Capital of Kansas, you never know what you'll find in Lucas. From America's Most Artistic Giant Toilet to the Garden of Eden, the Grassroots Arts Center and the Wold's Largest Collection of the World's Smallest Things, art is everywhere in Lucas!
5. Salina
Downtown Salina is home to a great variety of sculptures. Each year, between 15-25 sculptures are selected and carefully sited in historic Salina. Take a stroll through downtown and admire these great pieces of art!
Learn more
---