Eisenhower Barn Quilt Trail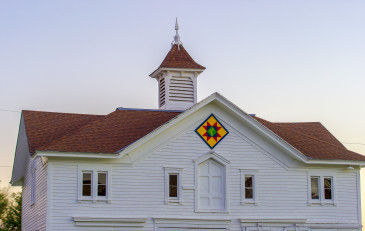 Driving through the countryside anywhere in the world you will likely come across many barns.  They drape the country in many designs, colors, and architecture.  Some barns are painted to display advertisements.  However, a woman named Donna Sue Groves, from Adams County, Ohio wanted to honor her mother by hanging a colorfully painted quilt block on her barn.  Instead of just one quilt block, she began a community project with twenty quilt blocks being displayed along a driving trail to encourage visitors to travel through the countryside. This was the start of the first quilt trail in America.

According to Suzi Parron who authored Barn Quilts and the American Quilt Trail Movement, quilt trails are organized all across the country.  Quilt blocks are displayed on barns around the countryside and then mapped out for tourists to follow these amazing works of art.  The quilt trails draw visitors into our rural communities as well as promote county-wide pride and showcase agriculture.  Traditional stars and various quilt patterns are now being displayed on barns, homes, sheds, and sides of buildings throughout the Kansas Flint Hills.  They are also put on posts and displayed in yards and parks. 
A project of the Flint Hills Tourism Coalition, the Flint Hills Quilt Trail Committee compiled this helpful list of barn quilts, including the Eisenhower Barn Quilt Trail in Abilene. Utilize the interactive map to learn more about each block.
---