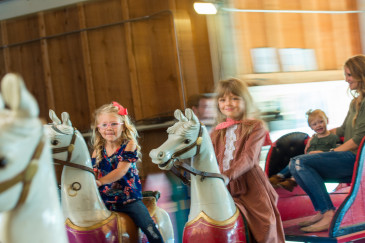 Named one of the Kansas Sampler Foundation's 8 Wonders of Kansas - Customs, Abilene's C.W. Parker Carousel is the oldest operational Parker carousel known to exist.
Fun Facts: 24 horses in 12 pairs 4 chariots 40-foot-wide platform.
Built in 1901 A Humble Beginning: Charles Wallace Parker dreamed of one day creating and operating amusement devices.
Parker got his start after purchasing a portable shooting gallery. He began his career manufacturing amusement devices after improving the design of his shooting gallery and ultimately building his own. Parker became interested in carousels after spending most of the only dollar in his pocket to buy his daughter rides on a carousel instead of buying groceries. Seeing the excitement on his daughter's face and realizing he spent most of his money to see her joy continue, Parker knew he needed to own a carousel.
Amusement King:
Parker built his first carousel in 1892 and started the Parker Carnival Supply Company two years later, making him the only carousel manufacturer not operating on the east coast. Parker's business was located in Abilene until 1911 when a dispute over property lines with the city forced his decision to move the entire company to Leavenworth. In Leavenworth, Parker began making visible changes to his carousel. The horses became more grandiose and other animals were featured as mounts. World War 1 and the Great Depression significantly impacted the business. The only carousel manufacturers to survive were those that switched to wood carving machines or to aluminum horses. C.W. Parker Amusement Company endured these tough times.
After Parker's death in 1932, his son ran the company in Leavenworth until 1955.
Returning to Abilene:
Jimmy Weisener purchased the carousel that can be found in Abilene today in 1928. For 38 years, he traveled from town to town operating the carousel. In 1959, Weisener sold his carousel to Tom Knight of Riverton, Wyoming. Knight placed a carousel at his drive-in movie theater. After his death, Knight's widow offered Dickinson County Historical Society the opportunity to purchase this rare machine.
The people of Abilene raised the $8,900 needed to purchase the carousel and it was finally returned home in 1976.
This 1901 carousel is the oldest operational carousel that can be ridden and featured at the Dickinson County Heritage Center.
Admission

Museum & Carousel
Adults ages 15-61: $8 museum, $4 carousel ride
Adults ages 62 and older:$7 museum, $4 carousel ride
Children ages 2-14: $4 includes a ride on the carousel
Children under age 2:Free admission include carousel ride with one paid adult carousel ticket

School Rates
$3 per student (includes a ride on the carousel) 
Free admission for 1 teacher and 1 para per class ($3 each to ride the carousel)
$5 each for extra adults (Plus $3 each for a carousel ride)

Group Rates
Group Rate (must be a group of 10 or more adults)
$5 per adult museum
$4 to ride the carousel
Contact
Dickinson County Historical Society
Call: (785) 263-2681
Website: Visit Site
Map
---