Eisenhower Presidential Library, Museum and Boyhood Home
Visit the all-new exhibits at the Eisenhower Presidential Library and Museum and experience Ike and Mamie's story in their own words.
One of Abilene's most iconic attractions, the Dwight D. Eisenhower Presidential Library,
Museum and Boyhood Home attracts hundreds of thousands of visitors a year. Whether you're a WWII and history enthusiast, fan of or simply exploring Kansas, the Dwight D. Eisenhower campus will leave you in awe. And don't forget to take a selfie with the 11-foot bronze statue of General Eisenhower!
Hours
Effective October 27, we are open Wednesday through Saturday, 10 a.m. - 3 p.m. for guests to explore the museum exhibits, campus grounds, and the Place of Meditation. Timed entry tickets are required and must be purchased online in advance. Capacity is limited and there are no on-site ticket sales. Face coverings are required regardless of vaccination status. The research room, gift shop, and boyhood home remain closed.  Public and educational programs will remain as online virtual programs.
Admission
Tickets must be purchased in advance. You may purchase a maximum of six (6) tickets per visit.
Scan this QR Code to Purchase Tickets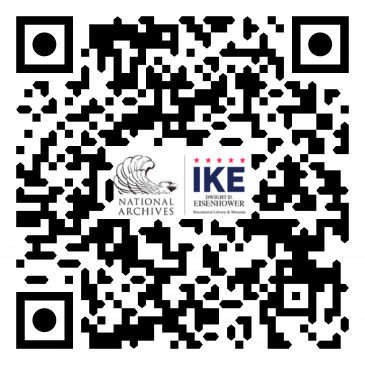 Contact
Eisenhower Presidential Library and Museum
Call: (785) 263-6700 x877
Website: Visit Site
Map
---